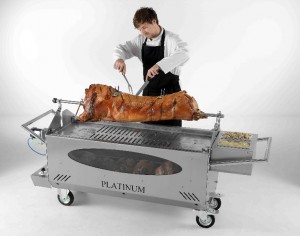 At Hog Roast Machines Ireland, we have a selection of top-of-the-range hog roast machine options that you can choose from to buy or hire – meaning we really do have something for everyone considering a hog roast for their special event. Are you hoping to hold a special occasion gathering with a delicious hog roast dinner? Do you want to invest in a hog roast machine for your venue? Either way, we can help! Buy new or second-hand machines from us and get ready to enjoy the delights of a succulent roasted hog – or perhaps a number of other roasted or BBQ meats.
A Whole Range Of Hog Roast Machines
Here's an overview of our hog roast machine choices. We also offer hog roast catering for those who would prefer the effortless experience of being personally served by our expert chefs and event staff:
Spit Roast Kit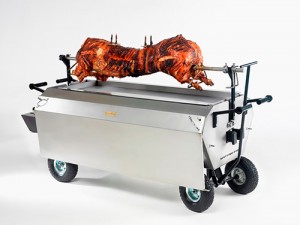 Enjoy the unique taste and the additional visual drama of a spit roasting hog without spit roast kit, the only way to achieve this wonderful traditional cooking style with our machines. Our spit roast kit uses a 240v motor and hefty spit pole to turn a whole pig or lamb and produce the tender and delightful meat that's ideal for both a quick lunch bap and a more sophisticated special event buffet. It comes with a viewing panel for both your chef and guests to carefully monitor your cooking and then lift up the spit with the two support bars and a carving tray is provided to collect your delicious carvings. The carving tray is heated by two burners that strength the length of the machine, meaning you have a handy hot plate to keep dishes warm.
Hog Roast Kit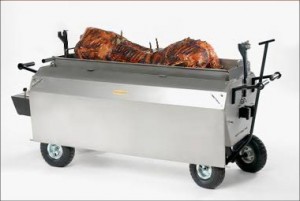 Whatever the occasion, if you need to feed hundreds of people in one go, we highly recommended our hog roast kit which allows for a huge 70kg pig and as many as 4 x 20kg pork joints, as well as plenty of room for other meat joints or chickens – if that's what you prefer. Don't forget the vegetarians either, our hog roast kit can be used for roasting veg too.
The hog roast machine comes with two thermostatically controlled full length burners which allow for complete control of cooking temperatures. While roasting. Your hog is placed in the upper level for cooking, but it can then be lifted into the open air for carving – let your venue be filled with smell of scrumptious roast pork and get their mouths salivating! All our machines have been designed by hog roasting experts, designed to be easy to use even by a novice.
Chicken Spit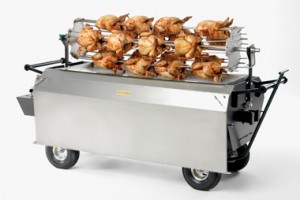 Looking for an alternative to a hog roast machine in Ireland? Take a look at our chicken spit kit which allows for you to cook as many as 36 whole chickens at a time! Imagine how many mouths you can feed with that? The 5 arm rotisserie is a truly dramatic cooking accessory, watch through the viewing panel until all your meat is cooked, then use the support bars to lift to the outside and get ready to carve. Each arm can be removed individually so you can keep the dramatic effect of the rotisserie in place as you cut the meat.
BBQ Set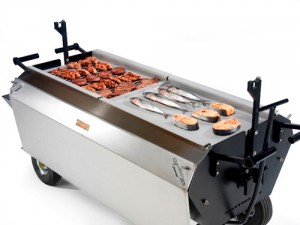 It doesn't have to be summer to get the BBQ experience with our BBQ set to be used on top of our hog roasting machines. Enjoy the chargrilled flavours of a barbie whatever the season, as you cook sausages, steaks, kebabs, vegetables, chicken wings… and all your other BBQ favourites on top of our BBQ extension top. This kit really adds to our hog roasting machines versatility!